August 24, 2019
33 view(s)
1 min read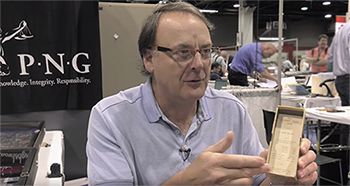 Coin dealer Russ Augustin shows us a scarce Lonson $1,000 gold coin box. Boxes like this were used by banks at the end of the 19th century through the first few decades of the 20th century to store and transport gold coins from bank vaults to teller windows.
Lonson Boxes were built by the Louis F. Dow Company of St. Paul and Minneapolis for heavy-duty use and feature wooden inner shells and a stabilizer bar that allows for easy storage and gives bankers a clear look at the rim of the coins, aiding in counterfeit detection.
Russ purchased this box from a colleague who had bought it and two others from the estate of SilverTowne founder Leon Hendrickson at a June 2018 auction.