1955/55 1C Lincoln Cent Doubled Die Obverse PCGS AU55 (CAC)
Here's a more reasonably priced example of the classic rarity/variety from 1955. PCGS has graded 961 as AU55BN with 2,725 finer. In CAC, there are 138 in AU55BN with 607 finer.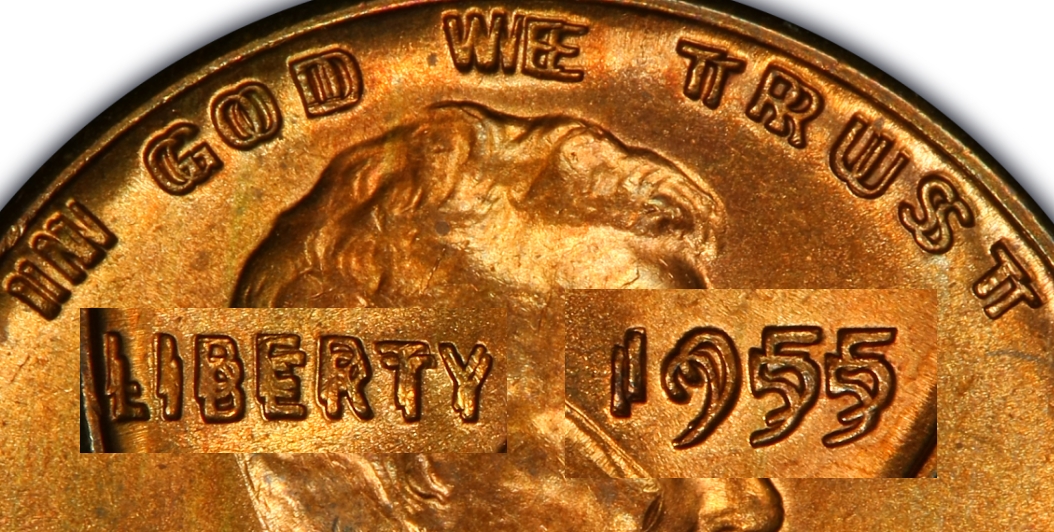 Lincoln Cent (Wheat Reverse) 1955 1 cent Doubled Die Obverse with close-up images of the doubling. Photo courtesy of PCGS Coinfacts website.
When kids became coin collectors back in the 1960s one of the first coins they ever heard of was the "Holy Grail" of Lincoln cents: the 1955 Doubled Die, the most famous mint error/variety coin in American numismatics. The doubling on it is striking (no pun intended) and can easily be seen with the naked eye. The doubling on the date, word "LIBERTY" and motto "IN GOD WE TRUST" are the most prominent. These doubled die coins were produced when the mint struck a working hub and a working die together while they were both slightly rotated differently from one another. Thus the working die received a 'doubled die' impression which resulted in thousands of 1955 Doubled Die cents being produced.
Those doubled die coins were mixed with millions of regular business strike coins, and began to show up in circulation. Smokers had a better chance of finding a 1955 Doubled Die because there were two cents under the cellophane of cigarette packs in vending machines. A pack cost 23 cents in 1955, but vending machines would not take less than a quarter. The two coins in the pack were change for the quarter. Many of those doubled die coins appeared in cigarette packages.

Inquiry
More Information

| | |
| --- | --- |
| PCGS # | 2825 |
| Grading Service | PCGS |
| Year of Issue | 1955 |
| Grade | AU55 |
| Denom Type | Lincoln Cent |
| Numeric Denomination | 1C |
| Mint Location | Philadelphia |
| Designation | BN |
| Circ/UnCirc | Circulated |
| Strike Type | Business |
| Holder Variety | Doubled Die Obverse |
| Grade Add On | CAC |
| Holder Type | N/A |
| Is on Sale | No |