1879-CC $1 Morgan Silver Dollar PCGS MS64
The 1879-CC Morgan dollar, with its mintage of 756,000, is the first key date of the Morgan dollar series and the second rarest (after 1889-CC) of all Carson City silver dollars. PCGS has graded 769 examples as MS64, with 199 finer.
This piece features attractive light golden patina. Perhaps hundreds of thousands of this issue were melted down under the Pittman Act of 1918. Several thousand 1879-CC dollars were paid out from the Treasury building in Washington, D.C., during the early 1950s. After the Treasury release ended in 1964, the General Services Administration (GSA) holdings of 1879-CC dollars numbered only 4,123,or 0.55% of its original mintage.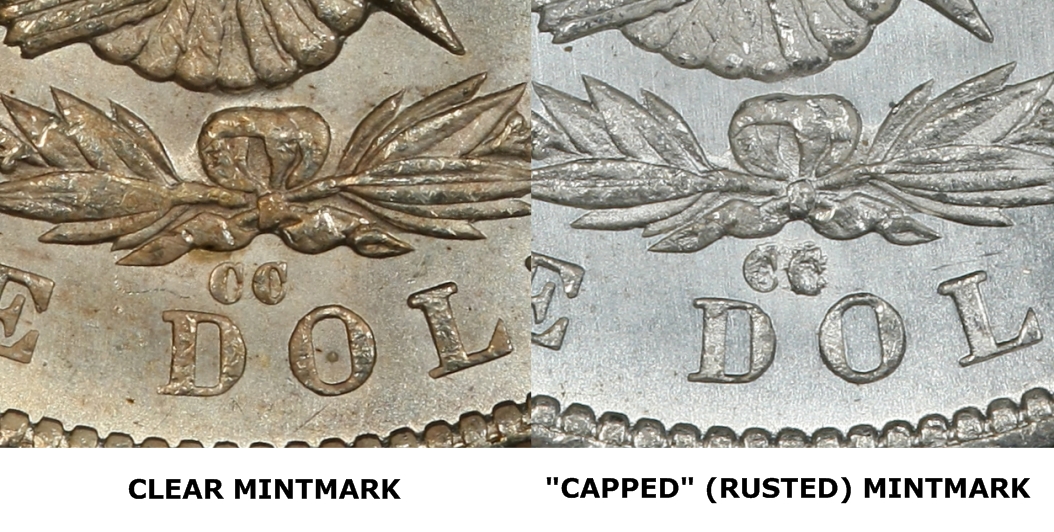 Comparison photo of Clear Mintmark and "Capped" (Rusted) Mintmark, courtesy of PCGS Coinfacts website.
Ron Guth writes in PCGS Coinfacts: "The 1879-CC Silver Dollar is a very popular date. As one of the scarcest CC-Mint Morgan Dollars, it has an allure all its own. The mintmark is found either rusted or unrusted. The rusted version is often called the "Capped Die" or the "Capped CC." Of the two varieties, the non-rusted version is the most common and has a certified population about twice that of the Capped CC."
"Hundreds of MS63 and MS64 examples have been certified, but collector demand keeps prices high. None have been graded finer than MS66."
The current offering by AUCM is the popular "clear" or "unrusted" CC variety. This is a very attractive collectable choice example. Numismatic author and auctioneer Q. David Bowers tells us, "Most 1879-CC dollars are quite well struck on obverse and reverse. The 1879-CC is typically encountered with attractive lustre.... Not much searching is needed to find a 'nice' coin, as such pieces are the rule."
More Information

| | |
| --- | --- |
| PCGS # | 7086 |
| Grading Service | PCGS |
| Year of Issue | 1879 |
| Grade | MS64 |
| Denom Type | Morgan Dollar |
| Numeric Denomination | $1 |
| Mint Location | Carson City |
| Designation | NONE |
| Circ/UnCirc | Uncirculated |
| Strike Type | Business |
| Grade Add On | NONE |
| Holder Type | N/A |
| Is on Sale | No |