BG- 302, 1853 California Gold Rush Circulating Fractional Gold 50C, Liberty Octagonal, "Peacock" Reverse NGC MS65 R4-
Low Rarity-4. Gold 50C Liberty Head Octagonal, initials FD on obverse. Period One - circulating issues between 1852 and 1856. Redbook Type: Small Liberty Head / Small Eagle With Rays. Made by Frontier-Deviercy.
Very popular variety, for this issue has one of the more unique design elements upon it. NGC has graded 37 examples of the "Peacock" variety. There are 4 in MS65, with 1 finer. PCGS has graded 125 of this popular issue. They have graded 2 in MS65, with 1 finer.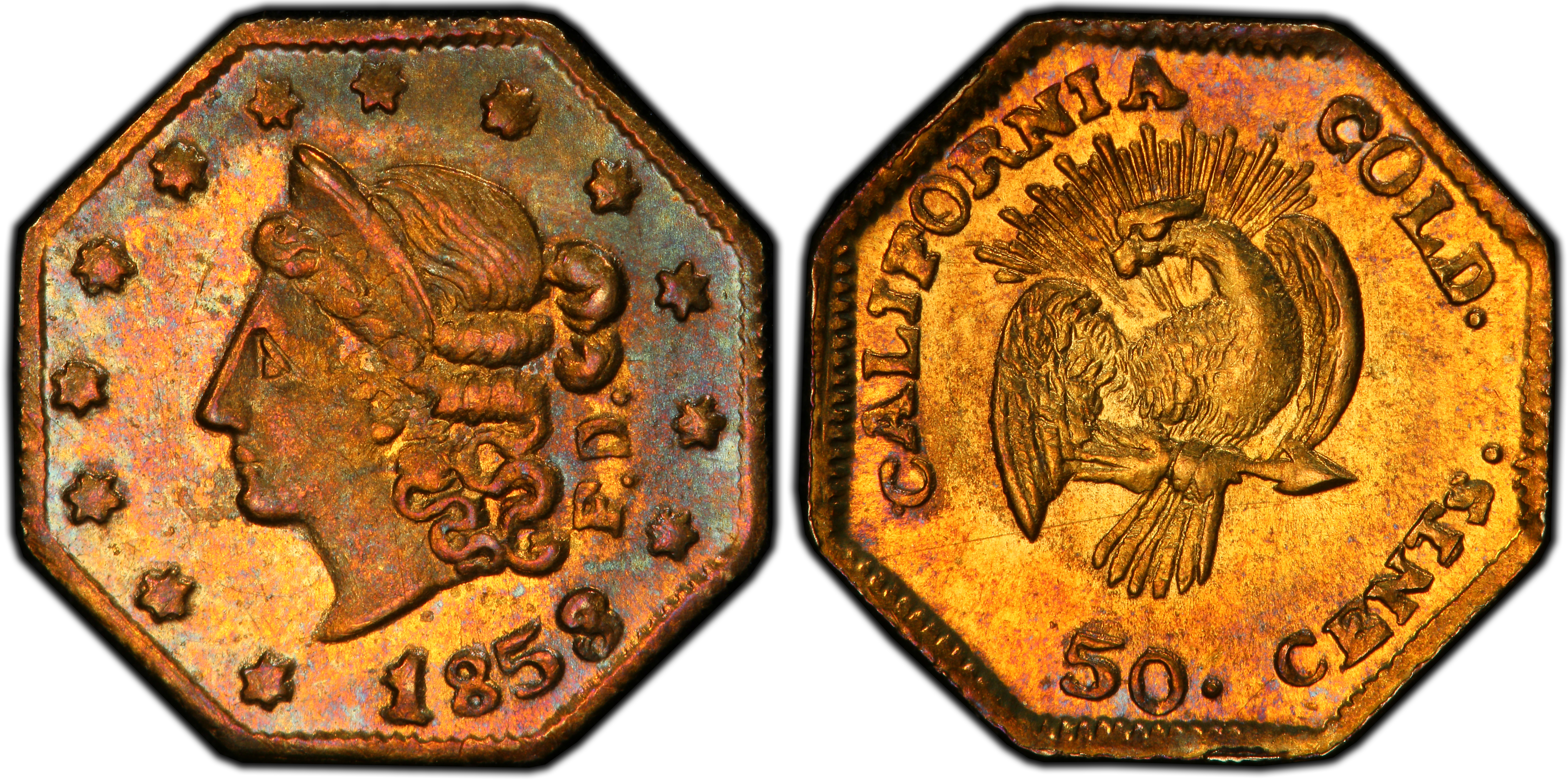 Close-up photo of both sides of the "Peacock" (see below for details) variety graded PCGS MS65 courtesy of the PCGS Coin Facts website.
It is a misnomer to call this issue's reverse image a "peacock." It was originally given that moniker by numismatist and auctioneer Art Kagin--and it stuck. This motif could be a creative derivative of the 1853 "Eagle with Rays" reverse of the quarter and half dollar. However, the bird on the coin has a crest, which American eagles do not have. Therefore it could be a crested caracara, which was probably a common sight in 1850s San Francisco. The caracara's body is similar to the one found on the coin.
The mythological phoenix metaphor is of course a possibility, since San Francisco was destroyed by fire seven times between 1849-1851, but the bird on the coin more closely resembles an eagle or caracara. However, the die sinker may indeed have been striving to create a phoenix--employing an eagle or caracara as a metaphorical phoenix. The San Francisco government adopted the phoenix as its city seal, but that was not officially until after the 1906 earthquake.

Inquiry
More Information

| | |
| --- | --- |
| PCGS # | 10422 |
| BG Number | 302 |
| Grading Service | NGC |
| Year of Issue | 1853 |
| Grade | MS65 |
| Denom Type | California Fractional Gold |
| Numeric Denomination | G50C |
| Mint Location | Private Issue |
| Designation | NONE |
| Circ/UnCirc | Uncirculated |
| Strike Type | Business |
| Holder Variety | BG-302 |
| Grade Add On | NONE |
| Holder Type | N/A |
| Is on Sale | No |