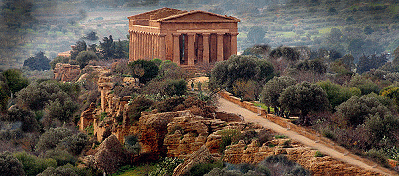 The Colosseo Collection ……
Akragas was a wealthy and powerful Greek state on the southern coast of Sicily, second only to Syracuse in importance. The city was famous for its lavish building projects, proudly displaying its wealth in the form of numerous massive temples, many of which still stand today.
The early designs of the coinage of Akragas remained consistent for nearly a century, depicting Zeus' standing eagle on the obverse and a crab on the reverse. As their societies matured, the aristocratic rulers of Akragas and its surrounding cities became highly competitive, especially in horse races, but also in the artistic beauty of the coinage they produced, resulting in a flourishing numismatic arms race.
Around 415 BCE, a dramatic shift took place, reinvigorating all denominations of their coinage. The designs became much more intricate, and the new coins have been ranked as some of the most beautiful coinage ever produced, clearly the work of the finest Sicilian artists of the time.
Read more »