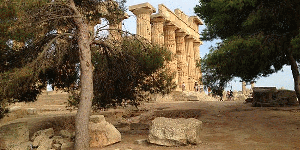 The history of Kamarina, a port city on the southern coast of Sicily, is among the most tumultuous of Ancient Greece. It was founded in 599 BCE by settlers from Syracuse and its location allowed it to grow quickly and amass substantial wealth through trade.
However, within 40 years of its founding, Syracuse began to perceive it as a threat because of its success. The city was destroyed by Syracuse in 553 BCE and then re-founded by colonists from Gela, only to be destroyed again by Syracuse and re-founded for a third time by Gela in 461 BCE.
Even with Gela's support, Kamarina was still weak, leading it to look for stronger allies to defend against future attacks from Syracuse. It sought out the support of Leontinoi until that city was destroyed by Syracuse in 422 BCE. It finally reached some semblance of stability through the protection of Athens, but Kamarina approached this alliance cautiously while waiting to see if Athens was indeed stronger than Syracuse.
Read more »