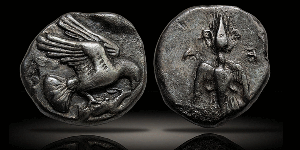 The Colosseo Collection ……
One of the few ancient traditions to survive until the modern world is the Ancient Olympics. Occurring in the same four-year cycle today as in antiquity, they mark a time when differences are put aside and the world's attention focuses on athletic competition between nations.
The name "Olympics" originates from where they were played. Olympia was a sanctuary of ancient Greece near the city of Elis, a fertile country in the northwest of the Peloponnese. It featured temples, sporting grounds, and accommodations for the athletes. The inhabitants of Elis were responsible for organizing the games every four years. The stadium at Olympia seated no less than 45 thousand, and the publicity for the winners was immense.
Read more »